I have received a lot of questions since posting about how I use math centers in a Guided Math format in my classroom.
Click here to read that post that gives a peek into my guided math centers
I thought I would take some time to write another post specifying more about the
two types of math groups
I use in my classroom to maximize instruction and differentiate instruction.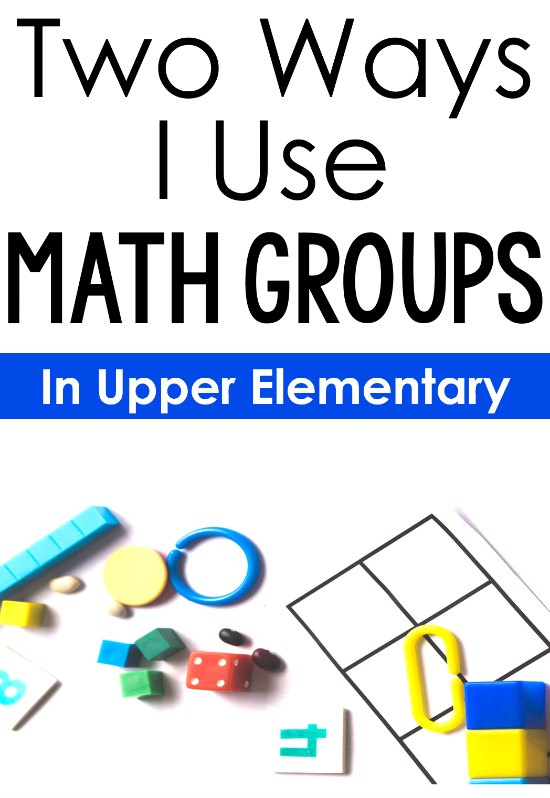 "On the Spot" Math Groups During Whole Group Lessons
During Whole Group Math Lessons, I use On the Spot Groups that change out based on the students and their individual understandings and needs. To understand how and why I use On the Spot Groups, lets take a look at a a break down of my Whole Group Math Lesson:
We start the lesson by going over previously completed review problems. I assign their math review as morning work and sometimes homework. This way, they have completed the math review prior to math time and we spend our math time going over and discussing the review (versus completing it.) The review is quick and to the point.
After reviewing previously learned skills, I introduce the new skill. I almost always introduce the skill with a connected word problem. This helps the students conceptualize the math and adds problem solving into every lesson. Read about how I did that with a division lesson here.
We complete an Interactive Notebook and/or matching Anchor Chart together after the introduction. Lots of discussion and questioning happens during this part of the lesson. This is also part of the lesson were we are exploring the skill with models or manipulatives and really stretching our thinking to understand the skill in depth.
Next, we do a few problems together for Guided Practice. The problems are usually included in the interactive notebook template. Even more discussion and questioning goes on during the Guided Practice to ensure the students are grasping the skill in a conceptual way. If manipulatives are used for the lesson, we will continue them into Guided Practice.
After Guided Practice, we will complete a few problems for Independent Practice (in some cases this could still be working on the interactive notebook template or it could be a separate printable. It could even be problems displayed on a smartboard). While the students are working, I spot check the students' work and get a general feel for how the students are doing with the lesson. If the students are doing well, I move on to the Exit Slip. If the majority are struggling, I will continue teaching the skill the next day.
If the majority of the students seem to be mastering the skill from Independent Practice, I will give an Exit Slip. I don't do anything fancy with pre-made exit slips. I simply throw 2-3 problems on the board that match the skills we are learning that day. After completing the exit slips on post it notes, the students continue with independent practice while I quickly score and organize the exit slips into three groups: Advanced, Proficient, and Needs Work.
After quickly scoring the exit slips, I pull

On the Spot Math Groups

for the students who need work. If the students have similar misconceptions, I pull those together. Sometimes I do a rotating group if some of the students just made a simple error. I will call several students over and have them find their error. If they are able to quickly find their errors and correct them, they are sent back to their seats so I can focus on the students who need more re-teaching. We first go over and correct the exit slip questions. If time allows, I will also pull some task cards for continued practice. This type of grouping changes out each day and is solely based on the results of the exit slips.
If no students are struggling or only 1 or 2 with small errors, I will pull an advanced group of students who don't typically get pulled very often so they can have some teacher time. We may work on error analysis tasks or just advanced math skills during this time.
Math Groups During Math Centers/Guided Math
When I do Guided Math Lessons, I use math groups that typically do not change. Here is a breakdown with more information about how I incorporate my small groups into Guided Math.
I begin Guided Math Lessons with a review just like Whole Group Lessons. I may also do a 20 minute mini lesson on a new skill or extending a previously learned skill.
After the mini lesson, we begin centers. I keep the centers generally the same so I do not have to waste instruction time explaining new center directions. You can read more about these centers here.  Here are my go to centers:

Roll and Answer Centers (This is a partner game.)
Teacher Time (This is when the students work with me in a small group. More about the materials I use during this time in a minute.)
Technology (Extramath or Vmathlive- a paid program funded by my school)
Math Journal or Manipulative Center
Seasonal Center (I like to mix the math centers up and provide some holiday fun during math centers.)

I have four to five groups of students based on my class size. I try to keep the group size at no more than 6 kids per group. I also try to keep groups with more struggling students smaller.
For this type of grouping, I typically mix my students up a little in regards to their levels so that the students who are successful with skills can help support the other students. However, I don't mix the levels too much. Instead, I would mix lower level students with a couple of low-medium level students. Also, this keeps the students from thinking they are in a low group, high group, etc.
I do four 20 minute rotations. If I have five groups, my students who don't need to meet with me as often will be in a fifth group that doesn't meet with me. The students rotate through the centers  above and work for about 20 minutes at each center with their assigned group. The students rotate to the next center at my signal. To read more about how I manage math centers, click here.
For my Teacher Time, here are some example activities we may complete:
To end the lesson, we will usually go over and share what we learned, what was easy, and what was challenging. I may even give an exit slip or go over specific problems from a center.
I really love teaching with math groups and can't imagine teaching any other way. By the fifth grade, some students have so many gaps and so many are ready for advanced skills, that teaching in small groups is the only way to truly meet all their needs.
Interested in Learning More about Guided Math/Math Centers?
These posts are super helpful if you are just starting out with guided math centers and would like more detailed information. Just click on the title to be taken to the blog post:
Getting Started with Math Centers
How to Launch Guided Math Centers
FREE Math Center Starter Packs for Launching Guided Math Centers
Guided Math Procedures to Teach
Scheduling Your Math Block for Guided Math Centers
My Top Tip for Making Math Centers Work for Me
7 Ways to Support Students with Math Centers
Teaching Math with Small Groups
Higher Level Math Centers for Upper Elementary
Interested in Learning More about Whole Group Instruction Activities?
Click here to read a detailed post with several different whole group instruction activities and strategies.
I hope this gives you some useful information to help you plan your Guided Math Centers, and some new free math activities to try out! Click here if you want to grab even more FREE math centers!