If you have followed my blog for any length of time, you know I am a huge fan of math centers. On this post, I want to share my number one tip for how I make math centers work in my classroom.  If you are thinking about implementing math centers, definitely read the entire post and make sure you grab the FREE math centers for you to try out!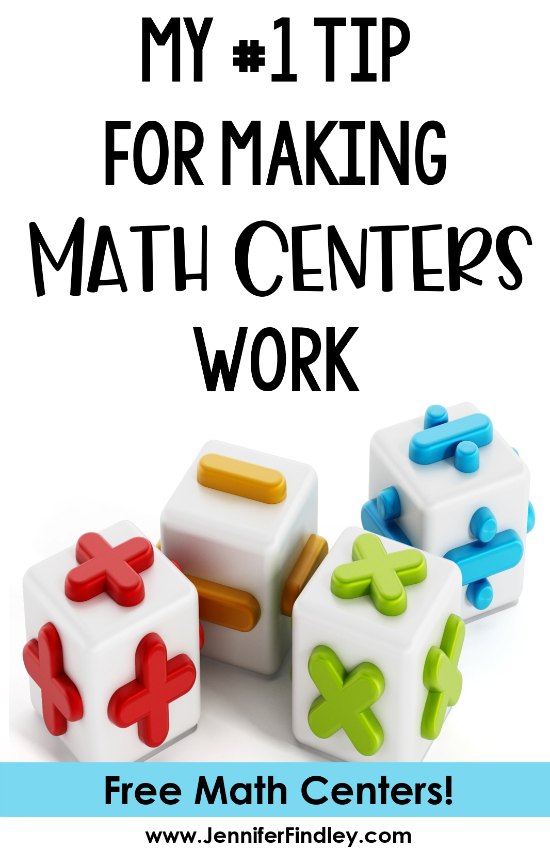 Keep centers consistent or as consistent as possible.
That is it. Sounds too simple, right? But it really is my top tip for making math centers work for me. Keeping at least the majority of your centers consistent with similar tasks and activities will make all the difference with management and time on task.
Here is why using consistent math centers works:
The students know what to expect, and behavior management is amazingly easier to handle. There is absolutely no excuse for students to misbehave because they know exactly what to do and how to do.
It allows the focus to be on the content and not on learning a new center or set of directions each day or week. 
It saves time. It saves time when students first begin the math center because they already know the directions. It saves you time because you do not have to spend part of your math instruction time reviewing and teaching the centers for that week.

It saves your teacher sanity. When I made my centers more consistent, it was the best thing I could have ever done. Hands down. I did not have to constantly hunt down new math centers to implement each week.

I keep my centers consistent by finding activities, resources, apps, or online resources that cover all the standards! That may sound hard, but it is definitely not.
Click here to see what I typically have in my guided math centers in 5th grade!
Need Consistent Math Center Ideas?
Here are some choices for centers that are low-prep, engaging, and consistent:
Word Problem Center: Use any word problem found or purchased online or created by the teacher in this center. See some super engaging word problem spinners here.
Paper and Pencil Center: The students know that this is always some type of independent practice completed on paper. I do use my mini- review booklets to keep it a little new and engaging for the students. I also use Error Analysis Math Tasks in this center, and the students love them! See the error analysis tasks HERE and the mini-review booklets HERE.
Task Card Center: Task cards are a staple center in my classroom. They are perfect for providing that much needed practice in an engaging format. See third grade task cards HERE, 4th grade task cards HERE, and 5th grade task cards HERE.
Partner Game Center: I always have at least one partner center in my math center rotation. I tend to stay away from small group centers that require the entire group to work together. I have found that two students working together is the perfect number. I use my Roll and Answer Math Centers to keep the games consistent. The focus is on the content and not learning a new game each week.
Computer or Tablet Center: I have used Xtramath for math facts and Vmathlive (paid site through my district) for the computer and Splashmath (paid, but affordable, app) for the tablets.
Choice Board Center: Choice boards work as a separate center or as an early finisher activity. One board could last an entire week and be due on Friday. Read more about my math choice boards (and grab some free ones) here.
Math Sorts Center: Math sorts are a perfect way to bring in some hands-on math practice into your math rotation. Keep reading to grab some free math sorts to get you started with consistent math centers!
Math Journaling Center: Math journal prompts are a great way to get the students writing and thinking about math on a consistent basis. Click here to read more ideas to get students writing in math all year.
Free Math Centers!
To help you implement consistent centers, I have a few free math centers for you!
Math sorts are a new favorite math center of mine. Since I have created sorts for all the standards, I can use these throughout the year in my math centers. The directions never change; only the content changes. So, when the students see these in their center, they know exactly what to do. These sorts can be used as interactive notebook sorts or even as a file folder game.
Take a look at a few samples from my 3rd grade math sorts, 4th grade math sorts, and 5th grade math sorts.
I compiled some of my favorite math sorts from each grade level into one large math center freebie download of 9 math sorts! Use them all or choose only your grade level. Using math sorts regularly in your math centers will allow you to keep your math centers consistent.
Click here or on the image shown to grab the free math sorts for grades 3-5.

Want More Math Sorts?
If you like these math sorts and want to try out implementing consistent math centers with more, check out the full sets in my TpT store by clicking your grade level.
Shop This Post
Shop This Post
Shop This Post
Other Helpful Guided Math Center Blog Posts
These posts are super helpful if you are just starting out and would like more detailed information. Just click on the title to be taken to the blog post:
Getting Started with Math Centers
How to Launch Guided Math Centers
FREE Math Center Starter Packs for Launching Guided Math Centers
Guided Math Procedures to Teach
Scheduling Your Math Block for Guided Math Centers
My Top Tip for Making Math Centers Work for Me
7 Ways to Support Students with Math Centers
Teaching Math with Small Groups
Higher Level Math Centers for Upper Elementary