One thing I heave learned over the years is that a variety of review is key for many students to be successful or feel successful on their end of year test. Some students thrive with engaging review and competition like games. Others need small group instruction to review or practice previously learned skills.
Over the last 7 years, I have been using test prep centers and small groups to review. This post will break down how I plan and use these centers to really make an impact on review. Please note that these centers are not done with the purpose of teaching to the test or drill and kill before the test. They are providing learning experiences that allow the students to review key skills in a variety of ways. I also use them in conjunction with whole group review for maximum results.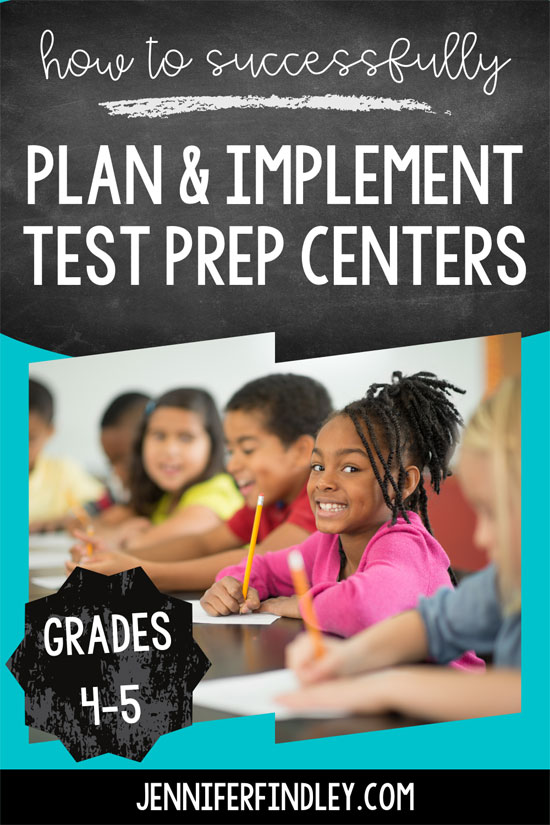 Choose Focus Skills
Realistically, you may not be able to review all of the skills. If you are limited on time, choose standards that your students still struggle with, standards taught at the beginning of the year, and standards that you know your students can excel at if they are just reminded of the skill.
After I have chosen my key skills to review, I divide the skills into three groups:
Skills Reviewed in Small Groups with the Teacher: Skills that I will review small group (I am always one of the centers). I choose skills that they struggle the most with to review in my small group. Think long division, multi-part word problems, paired passages, etc.
Skills Reviewed Via Centers: For my centers, I choose skills that can easily be reviewed in 20 minutes with centers.
Skills Reviewed in Whole Group: Sometimes I plan to have specific centers reviewed during our whole group lessons. Often I use whole group to re-teach skills the students struggled with in their centers. I also use whole group time for engaging whole class. You can more about some of the ways I have reviewed whole group by reading through my past test prep review blog posts.
Group Students
Once you have your skills in place, you will want to group your students into groups of no larger than six students, if possible. I group my students by level but I mix up the levels  so there is a mixture of abilities in each group. Here is an example:
Below Target Students will be mixed with Near Target Students
Near Target Students will be mixed with At Target Students
At Target Students will be mixed with Above Target Students
By grouping the students this way, I am still ensuring that each group is around the same level (this is best for my small group center) but they are still mixed with students performing higher than them (but not significantly higher).
Plan Test Prep Centers Schedule
Once you have your skills and groups in place, you will want to plan your schedule for when and how often to do test prep centers. Here are some options:
Option 1: Have a Reading Review Day twice a week, a Math Review Day twice a week, and a Science and Social Studies Day once a week. If you do it this way, the students will be reviewing the same subject all day, but lots of different skills. I recommend breaking the test prep centers up with whole group instruction as well. Here is an example schedule:
Option 2: Use your normal schedule for each subject but have test prep centers in place of your normal instruction. I do recommend having whole group for this as well though. Here is an example: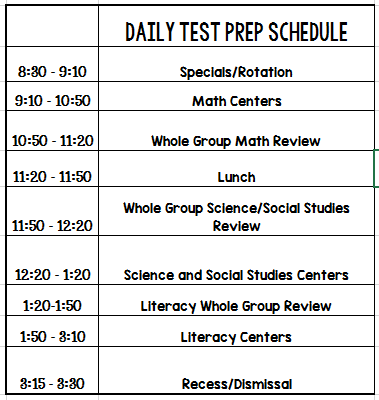 Option 3: Partner with another teacher or a few other teachers in your grade level. Assign each teacher a subject. The students will rotate as a class through each teacher, completing different test prep centers in each class.
Management of Test Prep Centers
For ideas for managing centers, click here to check out my post about Managing Math Centers and click here for tips for managing reading centers. I use these same tips for managing my test prep centers.
Shop This Post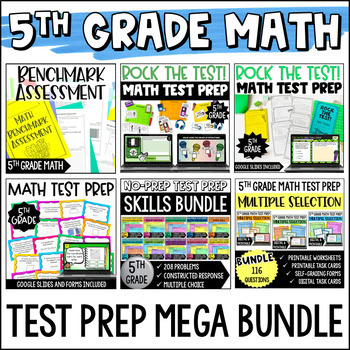 5th Grade Math Test Prep BUNDLE
Everything you need for 5th Grade Math Test Prep! And the best part? Many of the resources include digital and printable versions.
Resources for Test Prep Centers
I like to have a variety of centers for my students to review. I have a mixture of computer, independent, partner, and small group centers. This keeps it interesting and keeps the noise level down (not all students are working with their whole group at once.) Depending on my class size and class needs, I have may have two independent centers, two partner centers, etc.
Here are some of my favorite types of resources to use in my test prep centers:
Computer Center:
Speaking of computers, check out my best tips and strategies for preparing my students for online testing here.
Independent Center:
Task Cards: These are perfect for non-threatening, targeted review of any skill.
Mini Review Booklets: If you use mini review booklets, the students could work on these over the course of a few days each time they come to this center. When I use these booklets, I like to check in regularly with the students' progress when they come to me for small group.
Interactive Notebook Resources: I know these typically are completed in a notebook, but my students also enjoying completing these on a piece construction paper. These are a perfect way to showcase student learning. Click here to see an example of when we used interactive notebooks to review.
Partner Center and Small Group Centers:
Grading Student Work
Grading student work from centers can be a nightmare if you don't control it or plan accordingly. I do take up all student work (for accountability) but I do not grade it all. Here are some of the things I do to keep from having to grade all of their work, but still being able to formatively assess them and ensure the review is working.
I use a lot of centers that are meant to be "played" with partners. These centers are self-checking so the students are in charge of "grading" their work and learning from their mistakes. I use my Roll and Answer Centers a lot for this purpose.
Even if the center is not a partner center, all of the centers I use contain an answer key. However, I don't always provide the answer key to the students. Here are my thoughts on answer keys: If the students are required to work out the answer or prove the answer, I will provide the answer key for them to self-check. If the answer key is multiple choice, I typically do not. These centers are easy for me to grade and they are also easy for the students to simply record/change answers without doing the work.
Sometimes I do not even assess any of their work and instead use exit slips. I do this a lot in math, specifically. If the students are practicing order of operations, multiplying fractions, and volume, I will throw up three quick problems on the board after centers. I will use the exit slip to assess. If students bomb the exit slip, I will take a look at their work then and see if I can see patterns in errors to re-teach. If the entire class does poorly on a skill on the exit slip, I will make sure I review that skill in small groups or whole group the next day and re-assess.
That is the process and setup I have used for several years with huge success. My students always love completing centers and they allow me to review almost all of the standards. Another added benefit is that the centers give the students the confidence they need to do well. They don't have to worry about forgetting something because they have recently reviewed everything. This gives them an extra boost of confidence that many of my students need. In addition to using test prep centers, we do a lot of engaging, high-interest review as a whole group. Click here to read some of favorite and engaging ways to review.
What are some of your students favorite ways to review for a test?
Save
Do you want even more test prep tips and strategies for grades 4-5? Then, sign up for my FREE 6-Day Email Course to help you plan, organize, and execute engaging (and effective) test prep review! Click on the image below to read more and sign up today.