Confession- I love reading, but I don't love reading poems for young adults or adults. For some reason, I can never get the message or theme just right. Luckily, I do enjoy teaching poetry to my 5th graders, mainly because I use a reader's workshop format for teaching reading. Also, the poems used in 5th grade are definitely more interesting and reader-friendly. This post will share how I taught poetry comprehension and characteristics of poetry through guided reading, reading centers, and reader's response using a common poem.
Teaching Poetry in Guided Reading
This week, I wanted to incorporate poems into Guided Reading and work on my students' poetry comprehension. I wanted to make sure I covered several different "types" of poems, including poems that tell stories and poems that also teach facts. I started with the last type because I found a great book on Space poems in our library, which was both a high-interest topic and our next science unit.
To have multiple copies for my guided reading groups, I typed up the poems. I then created a few questions comprehension questions for each poem and typed them under the poem.
I had the students cover the questions with a post-it note so they could record their thoughts on the post it (and so we could ignore the questions until after we had thoroughly discussed the poem).
I then modeled for the students how to read a poem to learn facts. As I read the poem, I thought out-loud about what the poem was teaching the reader. I then recorded my thoughts on the post-it note and the students did the same. Then, we discussed the comprehension questions. The questions were a breeze to answer because we had really dissected the poem by stopping to jot down facts we had learned.
The students then read other poems from the book and did the same strategy I had modeled. They also marked their thinking as they read which is what the P, C, I, Q as they read (Predictions, Connections, Inferences, and Questions- read more about these reading strategies and how/why I teach them here) Here are some examples:
We also looked at poems that told stories or reflected on an event or topic. We followed the same steps as above:
Read the poem and discussed our thoughts, marking our thinking as we read
Discuss and answer comprehension questions after reading
Poetry Centers and Activities
For our reading centers this week (and also next week), the students read a variety of poems and completed a few different activities.
Shop This Post
Poetry Activities with Google Slides
Are you looking for poetry activities to help your students understand and analyze poems? And you need the poems included to save you time and energy? This set of poetry activities and resources is just what you need!
Poetry Task Card Center
For this reading center, the students read poems provided by me and responded using the poetry task cards. Read more about this poetry reading center and grab the task cards for free by clicking here.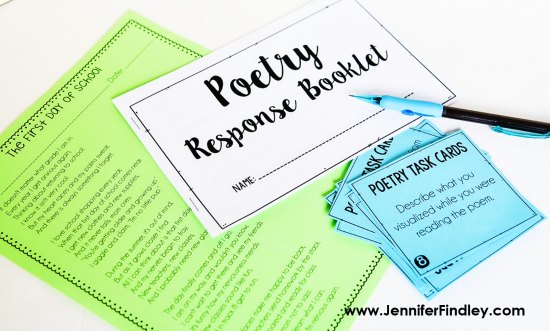 Poetry Reading Centers
For another reading centers, the students read poems and rolled two dice to answer different questions about the poems. This helped provide that necessary practice with reading and comprehending poems. Click here to see the poetry reading centers we use.
Assessing Poetry Comprehension and Features via Letters
I also tried something different with our reader's response letters this week. I gave all of my a students a copy of a poem so they would have a common text. I don't always use a common text, but I wanted this letter to double as an assessment of how my students were doing with poetry comprehension and understanding characteristic of poetry.
For the response letters, I had a few requirements in their letter (Summary, Connection, Question, etc), but the main focus was whether or not they could identify characteristics of poems and sound devices used in poetry. Here are some examples:
This student is confused about rhyming words. She may have this confused with alliteration or she may just need some re-teaching on what it means to rhyme.
This student demonstrates an understanding of alliteration.
And finally, this student demonstrates an understanding of rhyme, repetition  and alliteration. However, she failed to connect it to the poem and provide examples from the poem.
The best part about reader's response letters is that I can pull more information from each child in regards to their needs when I respond to them. Reading and replying to 27 letters takes time, but in the end it will be worth it!