Teaching readers who struggle to construct meaning during reading is a challenge. It is a challenge for the students because they struggle connecting to and getting immersed in books. Teachers are challenged with making complex texts comprehensible and engaging, while teaching grade-level reading skills. One way that I help with this is to teach my students to mark their thinking while they are reading using Think Marks. This post will share how I introduce this at the beginning of the year, which reading strategies I begin with, and my next steps, including a few free printables to help you implement this.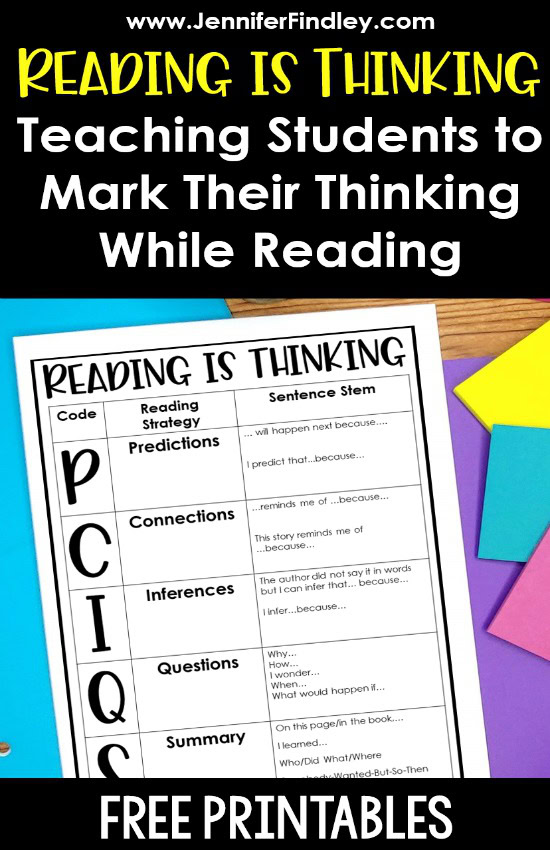 Introducing the Reading Strategies and Think Marks
One of the first lessons (besides reading expectation lessons) that I teach my students each year is how to "mark their thinking" and show the use of readings strategies using Think Marks.
Since my students typically struggle with reading comprehension and using active reading strategies, I start out my lessons with just the Predictions (P), Connections (C), Inferences (I), Questions (Q), and Summarizing (S).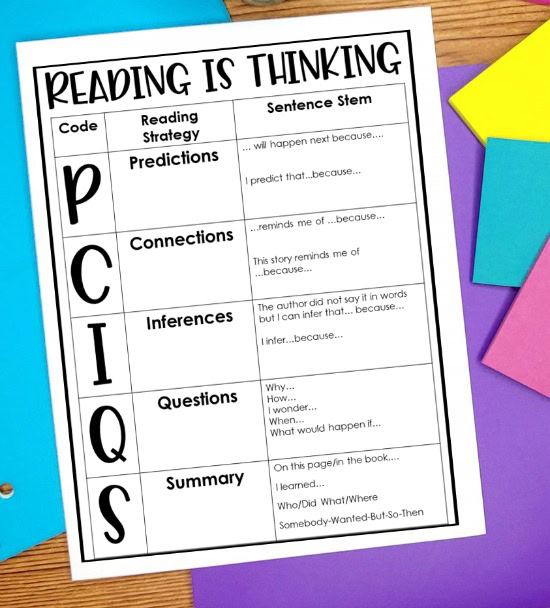 Guided Practice and Modeling
After going over each reading strategy, we discuss how good readers think while they are reading. Then I tell the students that we are going to practice that today with the strategies we just went over. I tell them we are going to mark our thinking on a post-it note using the correct code. At this point, I also let them know that this would be an ongoing expectation while they were reading, so they don't think this is a one and down strategy.
After going over the chart and reviewing each reading strategy and how to use the sentence stems to share our thinking with others, I read this book to the students.
No matter what book you read, choose a book that is highly relatable to the students. I also helps to read the book ahead of time and mark specific parts that are ideal for the reading strategies.
As I read the book, I would stop periodically and allow the students to make predictions, connections, inferences, and asked questions, prompting and modeling as needed. Each time that I would model a specific reading thought, the students would help me code it by placing a tally mark on the correct sticky note on the chart.
While discussing the book, I also have my students practice demonstrating their thinking with partners. If the students struggle, I remind them to use the sentence stem provided on the anchor chart.
After partner discussions, I have individual students share their thoughts with the class.  Then they code their thinking by putting a tally mark on the correct post-it on our class chart.
Sometimes, I would prompt the students to use specific reading strategies and sometimes I simply ask for thoughts on a particular page, and have the students  help me code the thoughts correctly.
Continued Practice (Including Independent Reading)
We complete this same lesson several times during the week as a whole group with a variety of read alouds. While my students independently read, they also practice marking their thinking in the same manner. In order to record their thinking, I typically just have the students write the reading strategy codes on their paper and use tally marks, just like we did on our anchor chart. Here is an example:
After independent reading time, I have several students share their thoughts with the class, using the sentence stems as needed.
My students typically really do enjoy this. They love marking their thinking using strategies that real readers do (versus complicated grade level strategies). And they love sharing their thoughts with others. After a few days of doing this, we even rename the strategy, "Marking our PCIQSs." It truly becomes routine and automatic to them after several weeks of focused practice and sharing.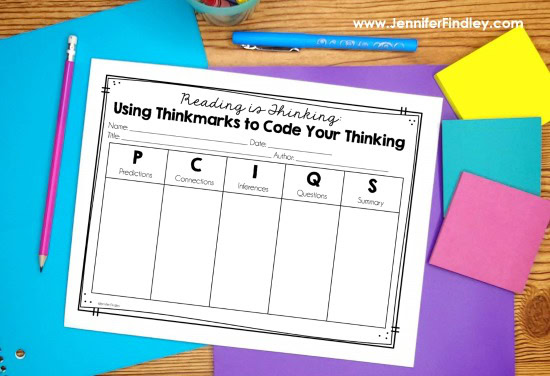 Next Steps for the Reading Strategies
If you need a resource to help you explicitly teach reading strategies, as well as allow your students to practice the skills with rigorous texts (fiction and nonfiction), check out this resource from my TpT store.
Shop This Post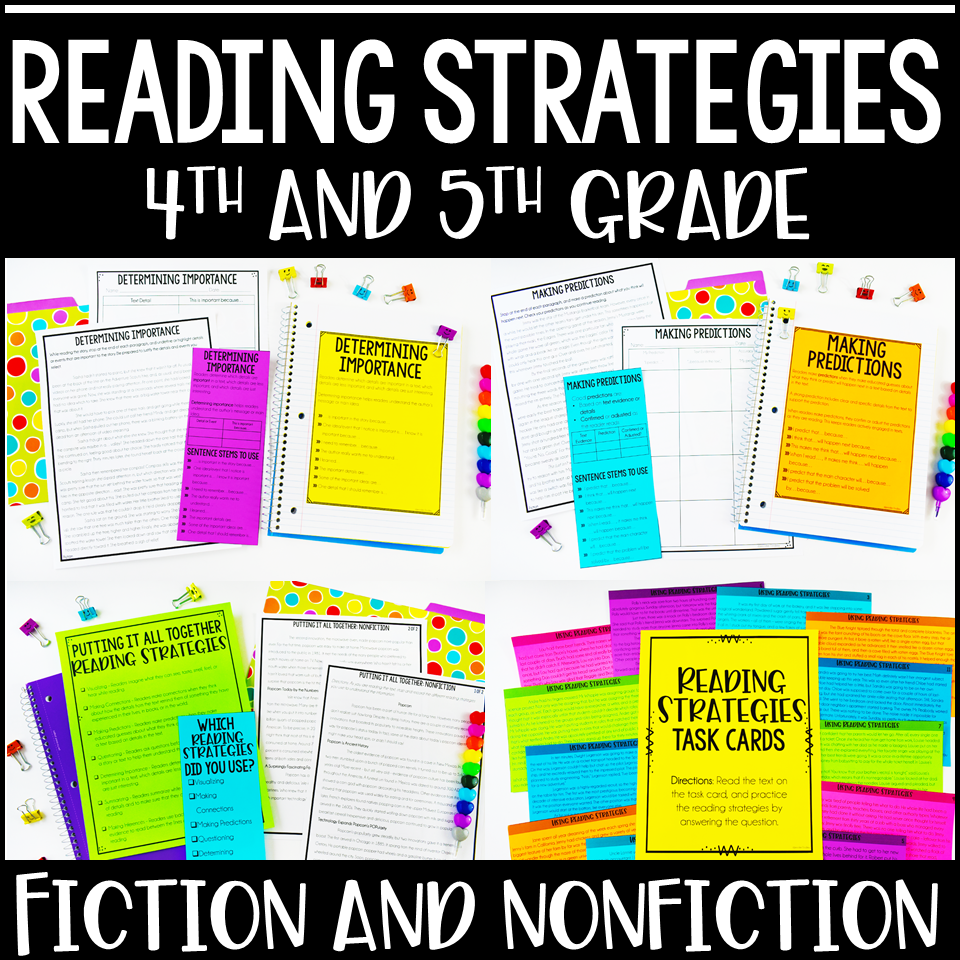 Reading Strategies
Do your students struggle to comprehend grade level texts? This resource provides everything you need for direct instruction of seven key reading strategies that improve reading comprehension. The reading strategies include visualizing, making connections, making predictions, questioning, determining importance, summarizing, and inferring. Fiction texts and nonfiction texts are included to allow your students to work on reading comprehension of fiction & nonfiction.
After a few days or weeks (it depends on the needs of the particular students) of coding our thinking and getting comfortable using the reading strategies regularly (and varying them depending on the context of the book being read), we are ready to being writing our thoughts and sharing them.
We do this during guided reading using simple reading strategy organizers like the ones shared on this post. We also begin sharing our specific thoughts in reader's response letters.
Since the students have been used to regularly sharing their thoughts using complete sentences, this is a natural transition for them and simply another way for them to share their reading thoughts with others.
More Advanced Reading Strategies
After the students are comfortable and confident with the particular reading strategies shared on this post, they are ready to tackle more advanced thinking skills. Read more about some of those more advanced reading strategies on this post.
More Blog Posts and Resources to Support Your Readers
Click on the links below to read more blog posts or see recommended resources to support your readers (especially struggling readers) further.
Decoding Multisyllabic Words in 4th and 5th Grade
Helping Struggling Readers in Upper Elementary 
Sentence Stems for Reading Strategies: FREE Posters
Free Reading Strategies Take-Home Book 
Getting Students Excited to Read
Holding Students Accountable for Independent Reading
Reading Intervention for 4th and 5th Grade Students Reading at 2nd/3rd Grade Levels: Fiction Skills
Reading Intervention for 4th and 5th Grade Students Reading at 2nd/3rd Grade Levels: Nonfiction Skills