Each year, I begin my reading instruction with the focus on having my students discuss and record their thoughts while reading using think marks in reader's response letters and other write about reading activities. I implement strategies and instruction for this type of reading before we even get into 5th grade level reading instruction. Since the majority of my students are English Language Learners, I needed a resource to help scaffold their responses to their reading. This post shares a collection of sentence stems for my students to use while they share their reading strategies and thoughts.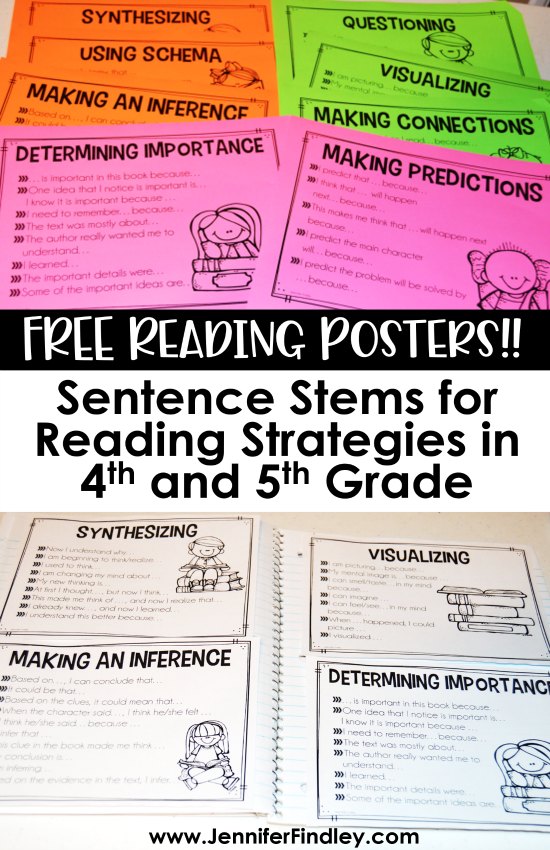 Using the Reading Strategy Sentence Stems
I plan to introduce the sentence stems one at a time as a I teach or review a new reading strategy during the first few weeks of school. After all stems are introduced during the first 20 days of school, I can assign random Think Marks using the sentence stems throughout the year. The great part about these reading strategies is they work with just about any text. To read more about how I teach reading strategies and how to code thinking using Think Marks, click here.
Here are the reading strategies featured in this resource:
Synthesizing
Using Schema
Making Inferences
Questioning
Visualizing
Making Connections
Determining Importance
Making Predictions
I print the sentence stems on colored paper to use during guided reading time. These will hang nicely on the wall near my guided reading table or even on a ring to keep at the table. My students can use these as needed to discuss their thoughts or record their responses.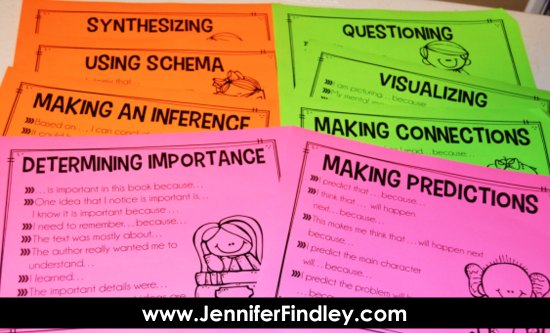 In addition to hanging these around the room, I plan to print the reading strategy sentence stem example posters two to a page (you could even do four to a page) for the students' reader's response notebooks. This way they don't need to look at a poster hanging on the wall each time they need to refer to the sentence stems. They can simply look at their own personal charts. This will also help ensure they are referring to the sentence stems on a regular basis when they are writing and talking about their books.
Grab the Reading Strategy Sentence Stem Posters for FREE!
Click here to download the Reading Strategy Sentence Stems for free from my TPT store.
If you need a resource to help you explicitly teach reading strategies, as well as allow your students to practice the skills with rigorous texts (fiction and nonfiction), check out this resource from my TpT store.
Shop This Post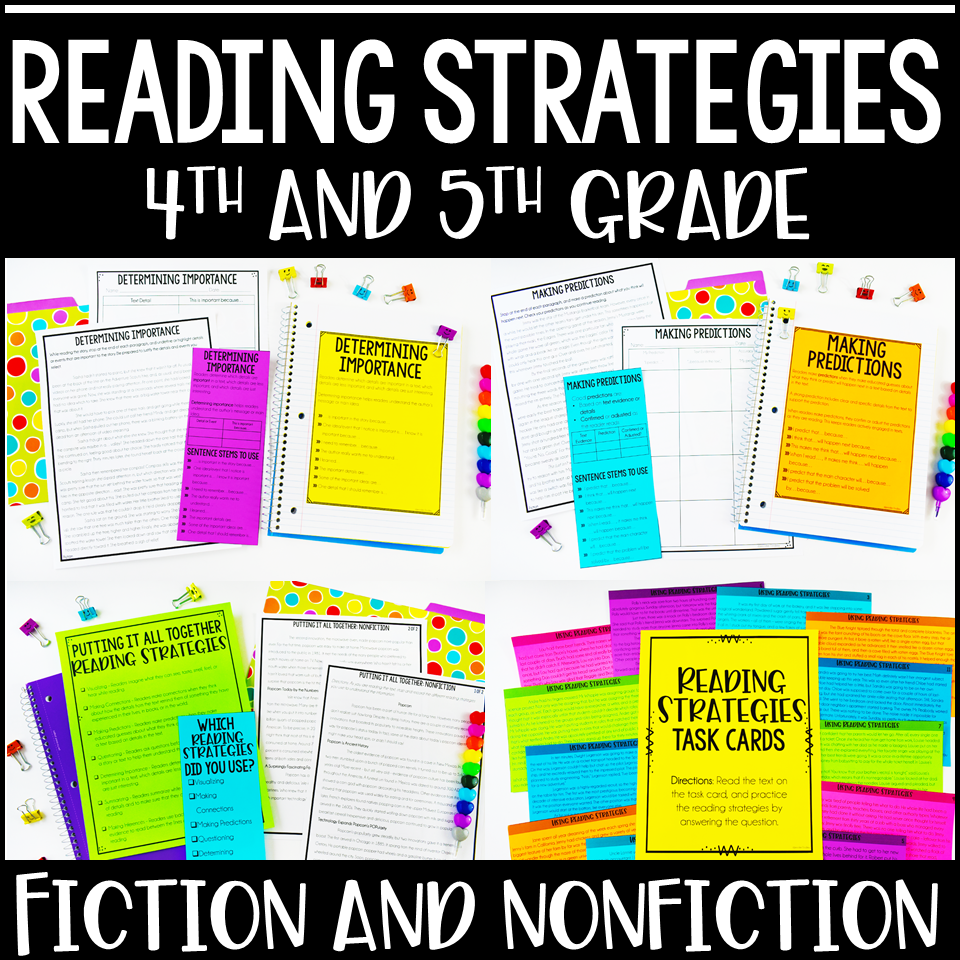 Reading Strategies
Do your students struggle to comprehend grade level texts? This resource provides everything you need for direct instruction of seven key reading strategies that improve reading comprehension. The reading strategies include visualizing, making connections, making predictions, questioning, determining importance, summarizing, and inferring. Fiction texts and nonfiction texts are included to allow your students to work on reading comprehension of fiction & nonfiction.
More Reading Sentence Stems
Sentence stems are an amazingly helpful strategy for my students. They help them discuss and share their thoughts verbally and in writing. To see more reading sentence stems for grade-level reading skills and standards, click on your grade level below.
3rd Grade Reading Sentence Stems and Posters
4th Grade Reading Sentence Stems and Posters
5th Grade Reading Sentence Stems and Posters
More Blog Posts and Resources to Support Your Readers
Click on the links below to read more blog posts or see recommended resources to support your readers (especially struggling readers) further.
Decoding Strategies for 4th and 5th Graders
Helping Struggling Readers in Upper Elementary 
How I Teach Reading in 5th Grade
Free Reading Strategies Take-Home Book 
Getting Students Excited to Read
Holding Students Accountable for Independent Reading
Reading Intervention for 4th and 5th Grade Students Reading at 2nd/3rd Grade Levels: Fiction Skills
Reading Intervention for 4th and 5th Grade Students Reading at 2nd/3rd Grade Levels: Nonfiction Skills