Test prep is definitely something that I implement all year through best practices and implementing strategies that translate to testing situations. However, I do spend the month before testing on review and using resources specifically created for test prep. No matter how many test prep resources I have, I still find that I am always on the look out for (or creating) fresh new test prep activities to engage my students. If you are anything like me, keep reading to get all the details about how you can get TEN days of free test prep activities and resources sent straight to your email.
About the Free Test Prep Activities
These test prep activities were created with the purpose of helping make your test prep more meaningful and engaging. The resources vary from day to day but include:
Test prep motivation printables and activities
Math activities
Literacy activities
And the resources contain at least one of these characteristics (if not more than one):
Strategic – Focusing on skills and ideas that are really important for test prep (word problems, teaching types of questions, vocabulary, etc)
Engaging – Not all of the test prep activities are super engaging (because realistically not everything that is purposeful is also engaging), but I incorporated a nice mix of strategic, purposeful resources and engaging activities that your students will enjoy.
Low to No-Prep – The last thing that I want to do is add to your to-do list, so I tried to create test prep activities that were low prep or no prep.
Versatile – The activities can be used for mini-lessons, small group activities, or even test prep centers. This will help you mix things up and keep your students engaged.
Who Are These Free Test Prep Activities For?
These test prep activities are for 4th and 5th Grade math and literacy teachers. The academic activities include skills for those grade levels only. (3rd grade teachers will find the vast majority of the freebies much too difficult for their students).
The vast majority of the activities are centered around math and literacy subjects. If you only teach one of the subjects, feel free to forward the other subject to the teacher who teaches those subjects OR save them in a folder in case you ever teach those subjects. If you teach science or social studies, you won't find many activities included that you can use.
Sign Up for the FREE Test Prep Activities and Resources HERE!
Simply pop in your details to get signed up for the TEN days of test prep freebies. You will receive one email each day with an engaging and/or rigorous test prep freebie!
Here is a peek at the free test prep activities and resources that you will get over the next ten days!!
How Is this Different from My Test Prep Email Course?
I also have a test prep email course but this is completely different! My free email course covers more of the strategy and techniques you can implement. You can read more and sign up for the test prep course here. (To keep your email from being bombarded, I do recommend you wait until you finish this one before signing up for the other one!)
More Test Prep Resources and Ideas
Want even more test prep ideas and activities? Click on the links below to get even more ideas to implement engaging and relevant test prep that you and your students will love!
FREE Test Prep Motivational Quote Coloring Pages
Online Test Taking Strategies and Resources
Implementing Test Prep Centers
Ways to Make Paper and Pencil Test Prep Engaging
Engaging Test Prep – Pie Face Review
Shop This Post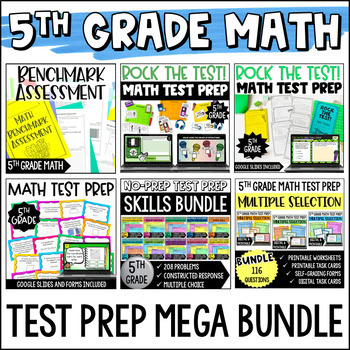 5th Grade Math Test Prep BUNDLE
Everything you need for 5th Grade Math Test Prep! And the best part? Many of the resources include digital and printable versions.