I have a love/hate relationship with test prep. I dislike it for all the obvious stressful reasons: the stress on the students and teachers, the time it takes away from instruction, and how monotonous it can get. But, this year my teammate and I have been very intentional about planning engaging test prep activities that the students (and teachers) love! Here is my new favorite: Test Prep Dress Up!
Keep reading to learn how you can implement this engaging test prep activity in your classroom with any subject(s)!
Test Prep Dress Up: Materials
Here are the only materials you need to for this engaging test prep activity:
Various dress up items – I stocked up at the dollar store and try to find things on clearance. Another good time to stock up is after Halloween. I also ask the primary teachers if they have any dress up items they don't mind letting us borrow. They usually have some fun items. (Hint: The more girlish the dress up item is the better. Your students will love it!)
Any review or test prep questions from any subject matter. My favorite is to use a powerpoint presentation that displays the problems or task cards projected via an Elmo.
Here is a picture of some of my items in my dress up bin. I am slowly collecting more items when I find them on clearance.
 Here are my newest items that my students haven't even seen yet. I just snagged these at Hobby Lobby and Walmart this past weekend.
I currently store the materials for this test prep activity in a large bin, but I will need to get a larger one when I get more items. You could also store these in a large cloth bag.
Test Prep Dress Up: Directions
Here is how to play this fun test prep activity:
Divide your students into teams.
Display or read the review questions.
All of the teams answer the question (But it will only be one team's "turn" or chance to get points or get in the dress up box.)
After a few minutes have passed (you set the time depending on how much time is needed to solve the problem or answer the question), check the teams' answers. I check answers by having all of the teams hold up their markerboards at my signal.
If the team whose turn it is to get into the dress up bin is right, they get the points and get to choose an item from the dress up box (without looking). They then have about 30 seconds to a minute to choose someone in the class to wear the item for the rest of the game.
I do allow the kids to take a penalty (lose a point) instead of wearing the item. However, the students love it so much that this is rarely an issue.
Test Prep Dress Up: FAQ
What about problems with lice?
This is a real problem from time to time with some classes. I just take out all of hats or wig. If it is a very bad problem that year, I skip this test prep activity altogether.
What if students keep putting items on the same person?
This rarely happens, but when it does, I put a limit of 2-3 items on the person.
What happens after the test prep activity is finished?
I only do this test prep activity once or twice a year so I let my students actually wear the dress up items for the ret of the day, as long as it doesn't become a distraction. They really love this.
How much time do you usually spend on this test prep activity?
About 30 minutes, but the engagement is usually so high that I could keep it going for an hour.
What subjects does this type of test prep activity work with?
This test prep activity really works with all subjects, but I usually use it with math.
Here is a picture of my son modeling my new items. The students love mixing up random dress up items for a ridiculous costume.
This is definitely one my students top favorite test prep activities and it definitely makes test prep fun for the students and for the teacher. I would love to know how you make test prep fun in your classroom. Let me know in the comments!
Do you want FREE test prep activities and resources for grades 4-5? Then, sign up for my FREE 10 days of test prep freebies! Click on the image below to read more and sign up today.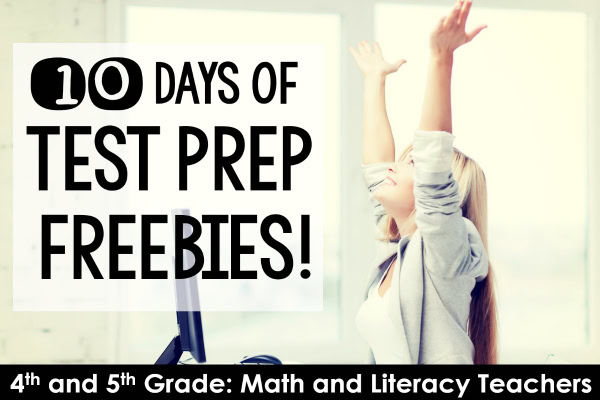 More Test Prep Resources and Ideas
Want even more test prep ideas and activities? Click on the links below to get even more ideas to implement engaging and relevant test prep that you and your students will love!
FREE Test Prep Motivational Quote Coloring Pages
Online Test Taking Strategies and Resources
Implementing Test Prep Centers
Ways to Make Paper and Pencil Test Prep Engaging