Test prep doesn't have to be boring and stressful for the teachers or the students. We try to keep some of our test prep activities super engaging and high-energy to keep students (and teachers) from getting stressed. This post shares details about one of my favorite engaging test prep activities that works perfectly during the spring, which is right at test prep season for us.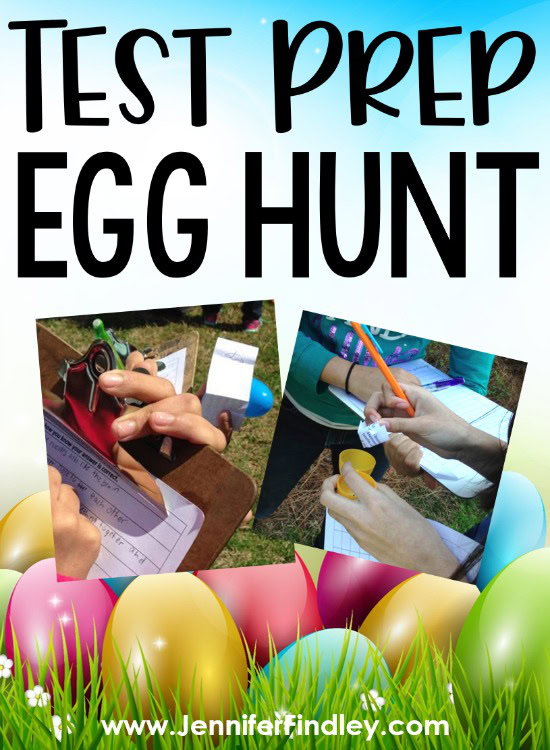 Test Prep Egg Hunt – An Engaging Way to Review
For this fun test prep activity, I gathered test prep questions (you can use multiple choice, constructed response, or short answer) and cut them up.  I folded the questions and put them into plastic eggs.
I made about 100 eggs because we joined another class for the activity. The eggs were hidden on the side of the building that way they would be separated from the other egg hunting activities that typically take place on the playground.
Next, I had my students pair up or make groups of three. The students were given a recording sheet to record their answers and a clipboard or something to bear down on.
Test Prep Egg Hunt Instructions
Here are the instructions I gave my students for the test prep egg hunt:
Find an egg. (No other group or pair can have the egg already.)
Open the egg. Work together to read and discuss the problem. Then record the question number and the answer the question on the recording sheet. Explain or prove your answer on the same recording sheet.
Replace the question in the egg and carefully put it back in its hiding location.
Repeat.
It was a huge success! The students loved it, and I loved hearing their discussions as they solved the problems.
FREE Test Prep Egg Hunt Questions: 4th Grade Math
If you teach 4th grade math and want to try this fun test prep activity, I have a FREE set of test prep questions perfect for a test prep egg hunt. Click here or on the image below and input your email to have the questions sent straight to your inbox.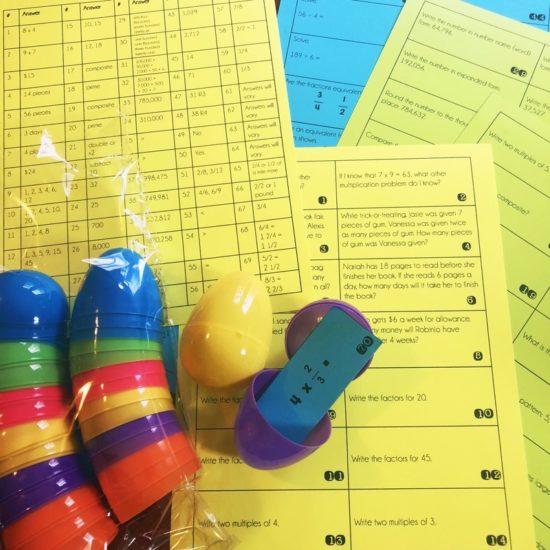 Test Prep Egg Hunt – FREE Recording Sheet
If you want to grab the recording sheet to have your own test prep egg hunt, you can grab it by clicking here or clicking on the image below.
Want to reuse those plastic eggs after the egg hunt? Click here to read more ideas for using plastic eggs to review, including a few freebies for 4th-5th grade literacy!
Want More Easter Activities and Resources?
Do you want even more test prep activities and resources for grades 4-5? Then, sign up for my FREE 10 days of test prep freebies! Click on the image below to read more and sign up today.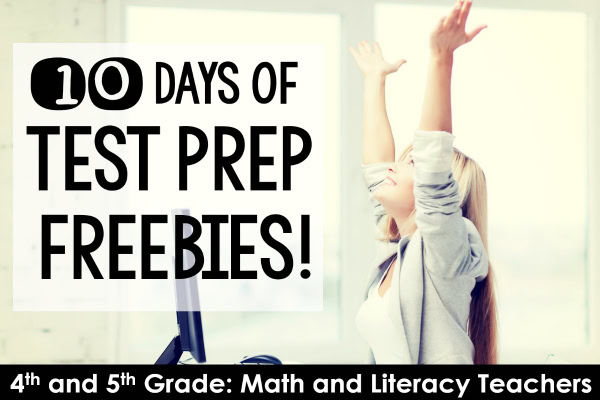 More Test Prep Resources and Ideas
Want even more test prep ideas and activities? Click on the links below to get even more ideas to implement engaging and relevant test prep that you and your students will love!
FREE Test Prep Motivational Quote Coloring Pages
Online Test Taking Strategies and Resources
Implementing Test Prep Centers
Ways to Make Paper and Pencil Test Prep Engaging
Engaging Test Prep – Pie Face Review
Save