If you are considering implementing reading stations in your 4th or 5th grade reading classroom, Daily 3 or Daily 5 reading stations are a great option. If you are not familiar with Daily 3 reading, it is a variation of the Daily 5 reading which you can read more about here. Daily 3 reading is how I structure my literacy block to allow my students to complete daily reading tasks.
The best part about the Daily 3 reading stations? The focus is on authentic literature experiences with a heavy focus on reading actual books. Keep reading to learn more about how I implement Daily 3 reading stations in my 5th grade classroom, as well as example reading activities in each rotation.
Looking for more traditional reading centers that don't follow a Daily 3 or Daily 5 structure? Click here to check out even more reading center ideas for 4th and 5th grade.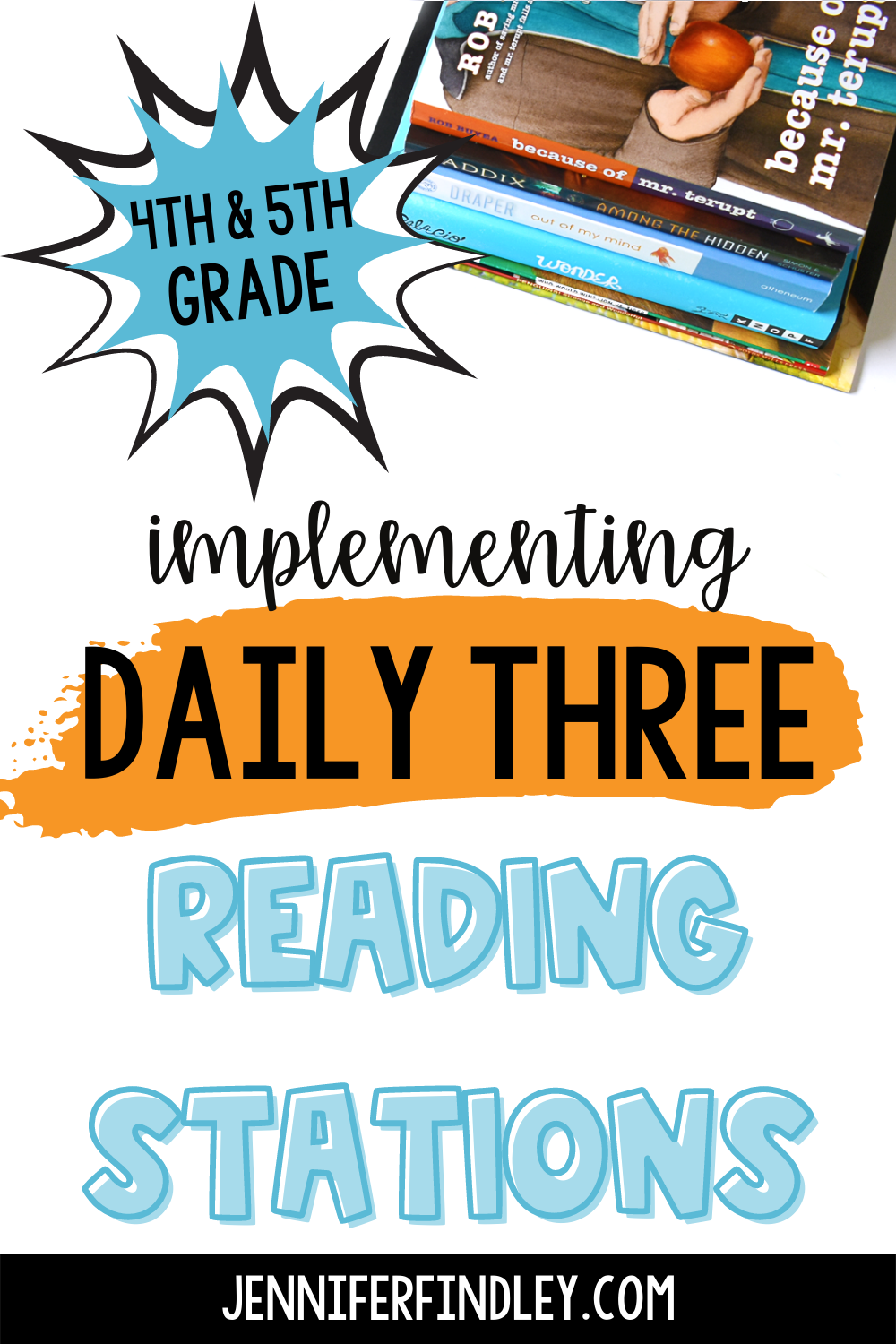 What is Daily 3 Reading?
Daily 3 (or the traditional Daily 5) is a way of structuring your reading block into reading stations or centers. The heart of this reading structure is books…and reading, writing, and talking about those books. The goal of using a reading structure like Daily 3 is to create lifelong readers who love reading and read for a variety of purposes.
The reading activities that you choose to use in each reading rotation will vary based on the needs of your students and the resources you have available. No matter what resources I use, I try to always keep the philosophy of creating lifelong readers in mind. I want to, as often as possible, provide authentic literacy experiences.
With that being said I do have standards and skills to teach, so I try to find a balance between my personal reading philosophy and ensuring my students have plenty of practice with grade-level reading skills.
This post will share the types of activities that I include in my Daily 3 reading rotations, but I highly encourage you to read The Daily 5: Fostering Literacy in the Elementary Grades. This will ensure you have the right mindset and knowledge when implementing this in your classroom.
Why Use Daily 3 Reading Stations
Instead of the traditional five reading rotations, I only do three rotations a week, making it a Daily Three reading center program.
I choose only three reading rotations for a few reasons:
Time – we really just don't have time to implement more than three rotations a day. And since I pull guided reading groups, students only visit two of the daily 3 rotations in a day.
Modified for upper elementary – I choose to modify the reading rotations to fit the rigor and needs of my reader, so doing all five on a regular basis is not something that I choose to do.
The traditional reading rotations using the Daily 5 structure are:
Read to self
Read to someone
Word work
Listen to reading –> Listen to reading is one that I don't typically have in my rotation. When I do implement this reading station, it usually done on a student-by-student basis and will take the place of independent reading.
Work on writing -> I rename this station as write about reading. We have a rigorous and separate writing workshop, so there is no need to implement a writing rotation during our reading rotations. Instead I rework the work on writing to be write about reading to give my students necessary practice with responding to their reading.
The three reading rotations my students complete from the beginning of the year are Read to Self, Word Work, and Write about Reading. After Christmas, I introduce Read to Someone as well but we have to build our stamina and reader behaviors before we can get to that. At that time, we rotate Read to Someone with Word Work, keeping it at three rotations per week.
I choose to implement a Daily 3 reading routine because I loved the focus on reading real authentic books. The structure also allows for easy differentiation as the focus is on the books the students are reading. All you need is to make sure you have plenty of engaging books at a variety of levels and you can easily implement these Daily 3 reading stations.
Daily 3 Reading Station #1 – Read to Self
For the read to self reading station, students read independently for an entire rotation every day. This is a no excuse with me. They have to read every day.
Keeping Students Accountable During Read to Self
While the students are independently reading they mark their thinking with thinkmark codes, (P-Prediction, C-Connections, etc). Read this post to read more about thinkmark codes and how I use them in my classroom.
I also require an accountability piece at this point in the year with the particular class I have. I call a five minute warning and that is when they complete a 4 Square Handout over what they have read that day.  They must complete one bullet from each box a day. The vocabulary section is a little more flexible though. There are four bullets, so the students have one day as a make up day or to just read and mark their thinking with thinkmarks.
This extra layer of accountability is needed this year because my students have never worked independently for long lengths of time nor have they participated in reading stations or centers.
Daily 3 Reading Station #2 – Write About Reading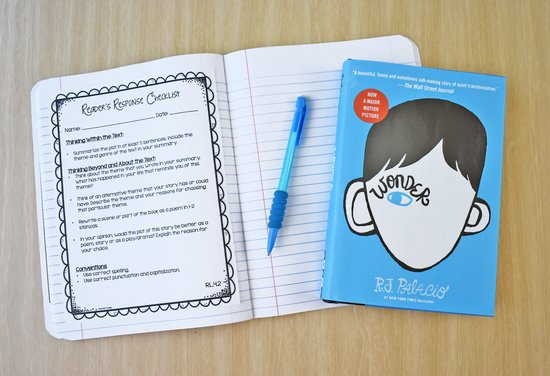 As of the writing of this blog post, these are my students' choices for writing about reading (different ones are required and others are choices and I will change out and add to it as the year progresses):
Want more ideas for a write about reading center? Click here to read several ideas and grab some free write about reading activities.
Daily 3 Reading Station #3 – Word Work
Here is what the students will do during the word work literacy station at this point in the year:
Look/Say/Cover/Write/Check from Word Matters: Basically, the students look at their spelling word, say the spelling word, cover the word, spell the word, then check to see if they are correct. If they are correct, they move on to the next word. If they are incorrect, they repeat the process.
Making Connections: The students choose one word from their spelling and make different connections to that word. I have a list of connections on a chart paper and they choose the four they want to use. You can read a detailed post about this word study activity by clicking here.
Additional Word Work Activity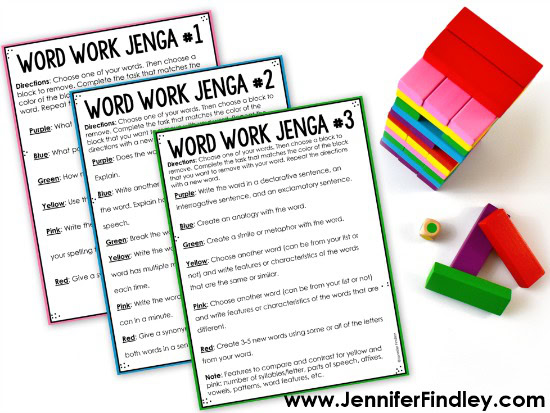 Another student favorite word work activity that I implement every now and then is Word Work Jenga. The students use their spelling list to play Jenga, completing different tasks with the blocks they move. To read more about this word work activity using Jenga and grab the free printables, click here.
FREE Daily 3 Reading Checklist and Accountability Forms
I use a Daily 3 reading checklist to help the students keep track of their assignments and to help me grade. The students staple the checklist to their center work for the week. I put their individual grades for each center on the lines.
For the Write about Reading, you will have to write in the number of how many activities the students must complete. This allows you to differentiate this reading center. Click here or on the image below to download the Daily 3 reading checklist and the other two reading rotation forms shown on this post.
Further Reading
If you are interested in implementing a daily three or daily five reading structure in your 4th or 5th grade classroom, I highly recommend you read The Daily 5: Fostering Literacy in the Elementary Grades by the original creators of this structure, which you can see on Amazon by clicking here.
The Daily 5 and CAFE are trademark and copy written content of Educational Design, LLC dba The 2 Sisters. Educational Design, LLC dba The 2 Sisters does not authorize or endorse these materials.